That truly is one cute button asshole; I would love to get my tongue into it!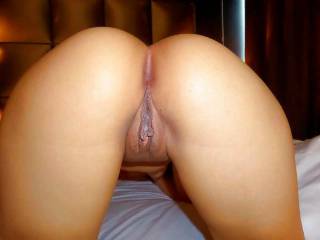 Kiss it, bite it, lick it, smack it. Push it, pull it, grip it. Hold it, rub it, spread it, fuck it. And lets not forget to massage it all over with a warm stiff cock. 
Left, right , up and down both inner thighs, slapping against pussy lips over and over, rubbing your hard clit until your juices coat me and are running down your thighs. I would love to eat that pussy of yours. I know how to hit a 3 spots that'll get you off at the same time. That'll give you an orgasm so intense you'll go into convulsions. Then I would like to cum in that beautiful pussy of yours. BEAUTIFUL-love to TONGUE fuck your asshOle tongue deeep and fuck your PUSSY balls deeeep -(o_o)- fill your love holes with CUM -O_O- xoxo. Oh my god I want to lick and tongue your asshole and then fuck it hard and the we can do your pussy if you can take that much play. Mmmmm, my mouth is literally watering wanting to lick and tongue fuck your tight, delicious asshole!