I'll lick you until you can't stand another second! 👅😘😍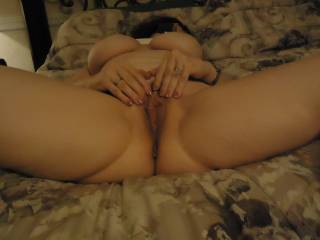 Mmmmmmmm I'm gonna grab that hot ass and start to lick hard rubbing up/down through your ass gap your pussy and asshole, playing with clit, continue do tongue fuck and fingering your holes. Make your pussy very hungry to feed her deep fulfilled with my big very hard cock. I'm gonna drive you crazy and make you very wild. You gonna groan, moan, roar, scream. My nose tickling in tour sweet little bush - pressed tight against your clit - rubbing. Tongue teasing your sexy slit - coaxing you to wetness - your hot fuck-juice dripping down my chin - soaking my face - soaking the sheets - working your little box into a frenzy. Kiss it, bite it, lick it, smack it, push it, pull it, grip it, hold it, rub it, spread it, fuck it.
 Massage it all over with my warm stiff cock, left, right, up and down both inner thighs, Mmmmmm, fuck! I would lick you so good until you cum over and over and over and my face is completely covered with your sweet juice. Then I'll roll you over and do the same to your ass. I'd lick you until you cum, then masturbate my cock on your clit before fucking you full of my cum, then you can lick and suck all the juices off my cock! Sound like a plan?